ASPIRIA: PIONEER IN SOFTWARE ENGINEERING
To create real added value this definition is essential. Many developers forget that, act slow, do not finalize their thoughts or get outdated by the market. As a consequence, there are solutions available which are immature or unfeasible. Fact is: If software causes inconvenience or limits the user, it is useless.
Based on this credo Aspiria was founded at the turn of the millennium and preserves this philosophy to date: Aspiria improves existing solutions and tops it all off. The outputs of our products are optimized productivity, better quality and enhanced clarity. These attributes make software feasible.
Three conditions are mandatory to realize that: Curiosity every day, fast problem identification and inventiveness paired with flexibility. Our value proposition CURIOUS ABOUT TOMMOROW is challenging us every single day. From the user's point of view and curiosity we recognize problems in existing systems or solutions. Our high-class developing team is specialized in solving problems in very innovative yet professional ways, because it is not about developing the technically feasible but to create real added value.
Precisely: Intelligent soft- and hardware solutions facing today's and tomorrow's problems.
As a European engineering service provider and software supplier with over 23 years of experience and more than 1,000,000 installed software licenses, Aspiria operates worldwide, serving renowned global corporations as well as the public sector with intelligent and innovative software solutions.
At the headquarters in Freising near Munich and the branch office in Slovenia with a team of specialized developers, software and hardware solutions are developed that solve the main problems of the users, highlighting the real benefits, maximizing productivity and taking clarity and usability to a new level.
Our success results not only from our decades of know-how, but also from our optimized processes and high reaction speed: The single vendor strategy in the area of Cisco 3rd party software enables us to implement addons faster, more deeply and more reliably than other developers could do. While others only develop on the surface, we dive deep into the matter and take on the problems whose solutions bring real benefit. This fact, our innovative acumen and not being afraid to invest sets us apart from the competition. Aspiria stands for German workmanship with a special relationship to quality. We can never be perfect, because nobody can – but we are always as close to perfection as possible.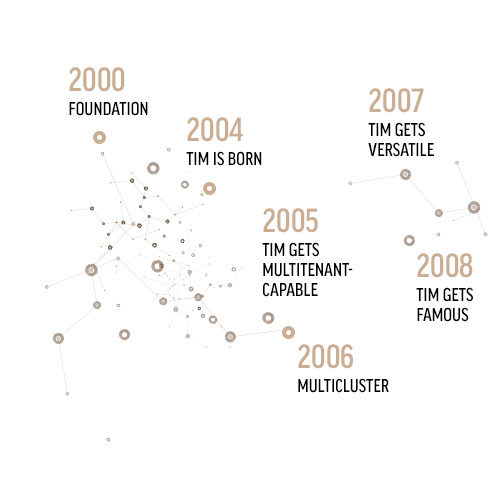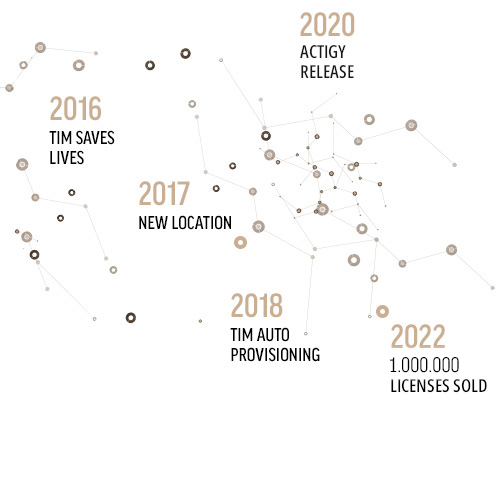 TIM is born
Invention and development of the TIM software
TIM GETS MULTITENANT-CAPABLE
TIM enables multi-tenancy management of the CISCO UC environment
MULTICLUSTER
Umbrella management for multiple CUCM clusters with different versions
TIM GETS VERSATILE
Development of 50 additional modules and functions
TIM GETS FAMOUS
TIM is voted CISCO 3rd Party Tool of the Year
USER SELF CARE
Puts the tools in the hands of the users themselves
TIM GOES VIRTUAL
TIM available for the first time as a virtual appliance
HELP DESK SUPPORT
TIM receives an interface for help desk employees
TIM GETS CERTIFIED
Aspiria becomes CISCO preferred solution partner
TIM NOW MULTILINGUAL
Operable in a total of 6 languages
TIM GETS INNOVATIVE
TIM attendant console is being redeveloped to be browser-based
TIM SAVES LIFES
TIM can now be used as a tool for emergency handling
NEW LOCATION
Establishment of Aspiria Informacijske Technologie D.O.O.
TIM AUTO PROVISIONING
TIM becomes a fully automatic middleware
ACTIGY® RELEASE
Release of the world's first multi-purpose POE button
GREAT SUCCESS
Über 1.000.000 installierte TIM-Lizenzen und Einreichung von neuen Patenten