ACTIGY®

ADAPTIVE. INNOVATIVE. SECURE.
ACTIGY® is easy to install by simply integrating the action button into the existing PoE infrastructure and thus also into the existing security architecture. In the simplest case, you operate ACTIGY® between a VoIP telephone and the switch port used for this.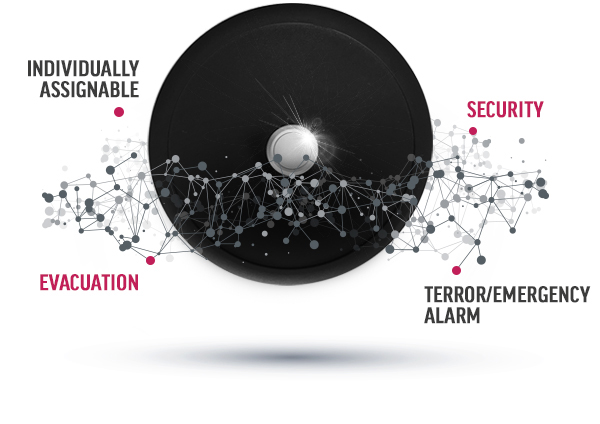 THE MOST IMPORTANT FEATURES AT A GLANCE

Average IoT device
---
Average IoT device Unencrypted at worst with outdated protocols
Connected to potentially insecure cloud services
Authenticity of clients and servers is not checked
ACTIGY® BUTTON
---
Security-relevant data is exchanged exclusively via HTTPS (TLS1.3) and using strong ciphers
Able to use Perfect Forward Secrecy
Bidirectional authentication using strong and unique SSL certificates per ACTIGY® button
Each ACTIGY® Button communicates exclusively with an ACTIGY®/TIM 8 server within your network.
Average IoT device
---
Unencrypted and/or unsigned firmware updates
Updates must be installed manually on each IoT device
Rare updates, therefore often vulnerable to already known security gaps
ACTIGY® BUTTON
---
All firmware updates are fully encrypted and signed
Central update mechanism via ACTIGY®/TIM 8 server
Critical software gaps are patched immediately
Average IoT device
---
No central monitoring tool in the LAN
ACTIGY® BUTTON
---
Each ACTIGY® Button periodically reports its status to the ACTIGY®/TIM 8 server
Problems are recognized immediately and reported to the responsible administrator

Totally versatile
Each ACTIGY® button is easily integrated into the existing security architecture (e.g. via ESPA-X, REST Apis, etc.). What is to happen when a button is pressed is stored on the ACTIGY® server.
Easy to integrate
Easy installation, because ACTIGY® is installed in the existing PoE infrastructure without additional cabling. It does not require an additional power supply.
Can be used flexibly
Fast assembly, since ACTIGY® is connected in series with other PoE devices (e.g. VoIP telephones). This means that ACTIGY® can also be quickly installed for temporary use.
Internet of things – of course
ACTIGY® offers the highest level of protection through state-of-the-art encryption, including the use of Perfect Forward Secrecy. ACTIGY® is not an IoT gateway into your secure network.
CONDITION MONITORING & SABOTAGE SECURITY
ACTIGY® offers maximum operational security through central status monitoring and sabotage monitoring. In plain language: If ACTIGY® is manipulated, an immediate warning is given.
CLEAR & USER-FRIENDLY
ACTIGY® offers a central and user-friendly interface for commissioning, administration and monitoring. This means that each individual action button is managed conveniently and centrally.
CUSTOMIZED FOR YOUR REQUIREMENTS
ACTIGY® offers shift pattern interpretation, so you can trigger multiple actions with just a single button.
ACTIGY® – UNIVERSAL, INDIVIDUAL, EFFECTIVE
ACTIGY® is a world first and cannot be compared to other products. Do you still want to think outside the box with us? No problem, because there are enough »buttons« on the market. However, the combination of power supply via PoE and highly encrypted communication via the existing LAN infrastructure is unique and patented. Wherever the push of a button has to have an impact on digital systems and the investment in new cabling and infrastructure is avoided, ACTIGY® is the product of choice.
ACTIGY® – AN IoT BUTTON THAT CONNECTS SYSTEMS.
These possibilities are almost unlimited. Would you like to learn more about the advantages? Then contact us now.
+49 8161 405510
sales@aspiria.com