The advantages are apparent.
TIM has been on the market since 2006 and with over 1.000.000 licenses sold and over 50 modules and functions, it is the perfect addition to help you get the most out of CUCM.
For these reasons, TIM is the ideal addition to your CISCO UC environment.
Your CISCO UC environment does not cover all the requirements that exist in your company? You do not want to fall back on numerous addons from different providers, since this increases the effort and costs immensely? But you still need to solve your problems?
Then TIM is exactly the right tool for you! TIM increases productivity, lowers operating costs and gives you unprecedented flexibility.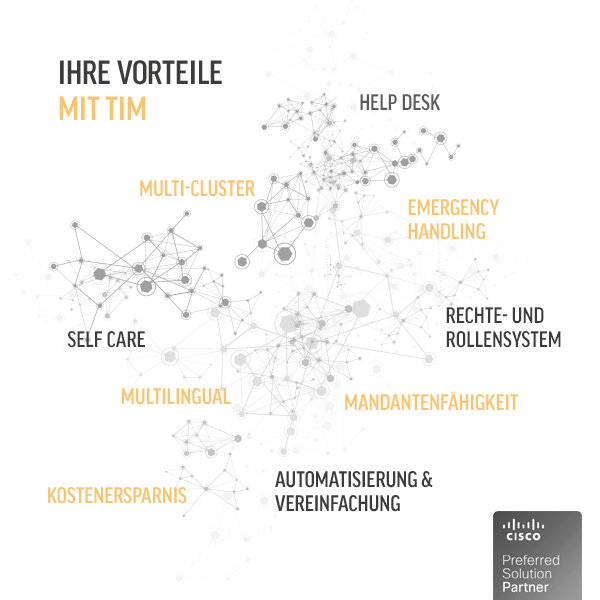 TIM – ADVANTAGES IN DETAIL:
With TIM, the Cisco Unified Communications Manager becomes a true all-rounder! TIM's numerous intelligent modules extend the CISCO UC environment in such a way that expanded requirements are met and new possibilities are created. Productivity and user acceptance are increased to a maximum – and all with just a single 3rd party tool.
Multi-client capability: One platform – many customers
With TIM, the Cisco Unified Communications Manager becomes a client-capable UC platform. The role and rights system enables the simultaneous use of a CUCM for several customers. Of course, different rights and functions can also be defined for each customer and group.
Benefits for users: Available but invisible
TIM integrates so seamlessly into the UC environment that your users do not perceive the extensions as extensions at all, but appreciate the new possibilities as a matter of course: Because TIM supplements the CUCM with essential functions that users need day after day to effectively to be able to work.
Benefits for administrators: More effective through simplification
The administration of the CUCM is significantly optimized by TIM. For this purpose, TIM establishes an unlimited number of authorization levels from which all participant groups benefit, right down to the end user. Thus, an operation can be delegated to the helpdesk or carried out by the user himself. A much less complex interface, which is of course browser-based, makes administrative work faster, more effective and less error-prone. However, should something go wrong, deleted items can be restored for 30 days. The high degree of automation eliminates many manual steps in contrast to working directly on the call manager.